Union UCC usually hosts a Vacation Bible School (VBS) every summer at the end of June. Children 4 years old through seventh gradefrom our church and community are invited to attend this week of Christian learning, games, skits, crafts, songs, snacks, and friendship. We choose a different theme every year (tropical island, scientific discovery center, medieval castle, western town…) and have a blast transforming our church into a different place.
June 20-24 2022 6:30pm- 8:30pm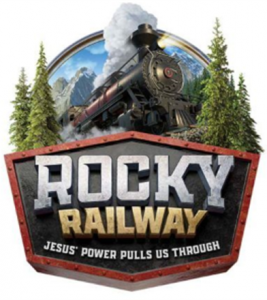 JESUS' POWER PULLS US THROUGH!
 This summer Union UCC will be on a train, powering through the Rocky Mountains! We will have a great time with lively songs, crafts, and Bible stories.
Don't have time to eat before VBS? No worries! We will offer a family friendly meal for volunteers/helpers and children registered for VBS each day of VBS  at 6pm.
Registration forms will be available starting March 27. Please register by June 5th.
If you have any questions, please call the church (610-767-6961) or contact Tiffany Lakatosh  (dired@unionucc.org).