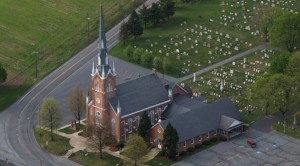 We are glad you're here and we hope that our website helps you learn about who we are. We look forward to meeting you at one of our events or on a Sunday morning so that we can learn about who you are.
We are a vibrant church with people of all ages worshipping and serving together. We have about 1,500  members and two main worship services on Sundays at 8am and 10:30am. Coffee hour is free and available all morning. Sunday is really the heart and soul of our life together. Our goal is to help you feel renewed, filled, and challenged in order to go back into your weekday life.
People often say they come to our church because it is so friendly. We are a large church that offers lots of ways to participate but we are small enough to feel included and connected. We are known for our children's programs, youth group, confirmation class, musical talent, service to others and our worship experiences.
We have been here in Neffs for a long time, since 1755. We work hard at being the kind of church that reflects on its relevance in people's lives and we try to grow and change with the spiritual needs of our community. We look forward to seeing what God has in store for us next and we hope you will be a part of it with us!
Don't hesitate to contact one of our pastors with your questions, prayer requests or to sign up to participate in our life together.
Rev. Kris Snyder-Samuelson at pastorkris@unionucc.org or 610-767-6961 ext 24
You can also like us on Facebook at Union United Church of Christ, Neffs.
If you'd like to be added to our mailing list or weekly email newsletter contact Tara Henninger at secretary@unionucc.org.
No matter who you are or where you are on life's journey you are welcome here.