Neffs Preschool- Where School Memories Begin and ALL are welcome!
Our purpose at Neffs Preschool is to provide:
a learning atmosphere in which each child feels secure, loved, and accepted
opportunities for learning social and cognitive skills acceptable to age and ability levels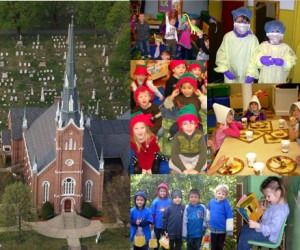 Neffs Preschool Contact
5550 Route 873
PO Box 66
Neffs, PA 18065-0066
610-767-5327
Preschool@unionucc.org
Preschool Programs
Classes and Curriculum
Preschool Family
Tuition
News and Events
Senior Scholarships
CELEBRATING OVER 25 YEARS!
Our first students graduated in 1991! Over the years we have strived to make changes in our curriculum to meet the needs of our students. We have updated by adding formal gym times, library day with a lending library, and ipads. We have not changed our goal, which is to provide a loving, caring environment to help all of our students grow and develop physically, academically, and socially. We look forward to another 25 years of being the school where memories begin and children enjoy learning!