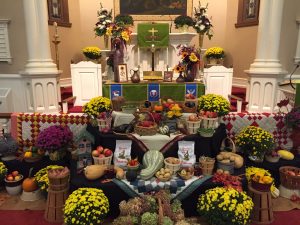 Sunday Services
Heritage Service – 8:00 am to 9:00 am
Horizon Service – 10:30 am to 11:30 am
Easter Services
Sunrise Service, 8:00 am, and 10:30 am
Christmas Eve Services
Dec. 22 7:00 pm (candlelight and communion with special music)                     Dec 23 7:00pm (candlelight and communion with special music)
Dec. 24                                                                                                                       3:00 pm (candlelight and communion with special music, Interrupted Silence Ensemble)
5:00 pm (candlelight and communion with special music, Interrupted Silence Ensemble)
8:00 pm (candlelight and communion with special music)
Worship Styles
Three distinct styles of worship provide opportunities for all generations to experience the joy of the Holy Spirit.
The Heritage Service – Sundays at 8:00a.m. in the Sanctuary
This is our traditional service.
Responses and hymns are from our hymnals.
The Heritage Choir leads us in hymns and anthems.
The pipe organ is the primary instrument for congregational singing.
There is no separate children's time or children's ministry during this hour.
The Horizon Service – Sundays at 10:30a.m. in the Sanctuary
This is the service that blends our heritage with current styles of worship.
Music is from hymnals and from other contemporary sources.
The Horizon Choir leads the congregational singing as well as sharing an anthem.
The Children's and Youth Choirs sing at this service monthly.
Although the pipe organ is used, a variety of musical instruments like piano, keyboard, and guitar help us make a joyful noise to God.
A children's time is included in worship and children form birth through fifth grade are invited to Little Lambs Nursery, Big Kids or Children's Church.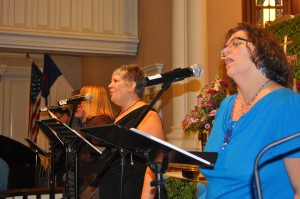 Sunday Morning Alive! (SMA) at the 10:30am service about 6 times a year.
This is our contemporary service.
The biblical message is offered in a skit as well as in a pastor's message.
The worship hour closes with a pastoral healing prayer.