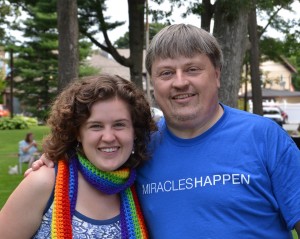 Welcome! No matter where you are, you are welcome here…
Please look at our First Time FAQs, to answer any questions you may have about visiting with us. If you can't find the answer there email the office at secretary@unionucc.org or call 610-767-6961.
New Member Sessions
Are you interested in joining our church and making a
commitment to practice your faith here?
Pastor Kris and church leaders invite you to gatherings on September 10 & 17 at 9:15am until 10:15am.  We will meet in the Memory Room (Room 200) on the second floor. This an informal time to get to know each other and ask questions.  Attendance is not required to join.  You will be welcomed as members in worship on Sunday, September 24 at the 8am or 10:30am worship service. Contact Pastor Kris at pastorkris@unionucc.org  if you have questions or contact the church office to sign up with Tara at 610-767-6961 or secretary@unionucc.org.
How to Have my Child Baptized
This is a time when we use water to bless a child and welcome them into the church. In our tradition we typically baptize infants sometime within the first year of their life. Parents and the church make promises on the child's behalf to teach them about God's word and love.  When Children are in 8th grade (about age 13) they affirm their own baptism through a year of learning called Confirmation Class. We also baptize children and adults.   Parents and/or those being baptized are invited to attend 1 meeting in order to prepare for the Baptism day.
If you are interested in having someone baptized or in being baptized, please contact the church office at 610-767-6961 to find out the schedule of the baptism meetings and baptism Sundays.
Baptismal Info Form– to be completed prior to the baptism meeting and given to the church office.
Baptismal Vows – to be completed prior to the baptism meeting and given to the church office.
How to get married at Union UCC
You must contact our Office Administrator, Barbara Carinci, at administrator@unionucc.org to see if your preferred date is available.   She will then send you an Information Form and a Wedding Booklet. You must return a deposit and the Information Form in order to secure your date.