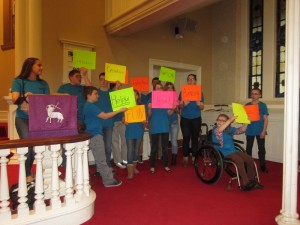 Where should I park?
There are 3 parking areas available:
The North parking lot (on the Neffs side of our building) provides handicapped access (no steps) to the building.
The South parking lot  (on the Schnecksville side of our building)  provides handicapped spaces to park but there are steps to enter the building.
 The Grove parking lot  (behind our Grove picnic area, usually used for events and when the other two lots are full).
Where do I enter the building?
You can enter the building on the north or south side from the parking lots to enter the lobby and the front of the sanctuary or from the front doors to enter the rear of the sanctuary.
What should I wear to worship?
You will see people dressed in a variety of ways here. Some will be dressed up in dresses or suits and others will be "dressy casual" as well as casual. Come as you are!
Is there a coffee hour time before or after the worship service?
Yes we have a free coffee hour with cold and hot drinks and snacks every Sunday after both worship services. It's called the Holy Grounds Coffee Hour and it's in Memorial Hall, on the same level as where worship is. It's a great place to meet friends.
Where are the bathrooms located?
There are single bathrooms on the main level in the hallways leading to the sanctuary where we worship.  Anyone can use these. There are little bathrooms for children in each of the nursery rooms on the main level. There are larger bathrooms in the basement hallway across from the kitchen.
Do you provide child care for young children?
Parents and caregivers are welcome to use our nursery for little ones who may need a little break from the worship service to eat or just need to get out some wiggles and energy. We kindly ask that you sign in, to let us know that you used the space, and place any toys that your child played with in the green bin for cleaning. We have a Nursery Nook area that is great for feeding and changing little ones. In that area we have diapers and wipes. We also have a TV in the room to enjoy worship while caring for your little one. We do not have an attendant at this time, therefore, a parent/caregiver is required to stay with the child(ren) when they are in the nursery.