Join us on Sunday Mornings before and during 10:30 am worship.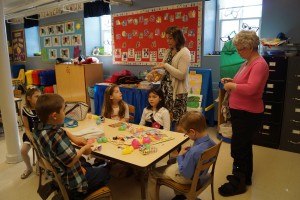 During the 10:30 Sunday Worship Service
LITTLE LAMBS NURSERY – birth up to age 3.
Room 102 is furnished with a crib, rocking chair, changing table, and TOYS!
CHILDREN'S CHURCH – Ages 3 through 6th grade.
The children begin the worship service with their families. They are dismissed after Children's Time to Children's Church. At Children's Church they enjoy a fun time of learning, music, and activities in room 7. Before the end of service children return to their families in the sanctuary.
All groups meet during Sunday Education Hour (9:15-10:15am)
SUNDAY SCHOOL – Ages 3 through 5th grade.
The teachers and helpers of all age levels use a variety of interactive methods to help children encounter the overall story of the bible. Games, skits, crafts, mission projects, Bible work, singing, and reciting are some of the fun ways to help children interpret, and connect the story with their own experiences. (Currently using Simply Loved as the curriculum.)
Provides an opportunity to discuss teen issues in a Christian environment.
This is a special year of growing in Christ for 8th grade students and older.
High School students meet and talk about their concerns in a faith-based setting. 9th – 12th grade.