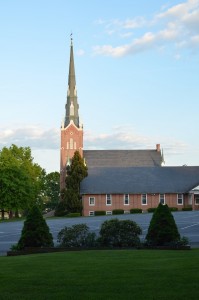 Location
Union UCC Church is located in Neffs, Pennsylvania, just outside of Schnecksville. Our church is in Mid-Eastern Pennsylvania in the beautiful Lehigh Valley. It is less then a half hour from Allentown, Pennsylvania.
Contact Us
Union United Church of Christ
PO Box 66
5550 Route 873
Neffs, PA 18065
Church Office: 610-767-6961
Church Fax: 610-767-7128
Pastor Kris pastorkris@unionucc.org
Pastor Kayli pastorkayli@unionucc.org 
Carrie Beleno vispastor@unionucc.org 
Marissa Haney administrator@unionucc.org
Barbara Carinci Financialmanager@unionucc.org

From the intersections of Route 309 and Route 22, head North on Route 309. Travel about 5.5 miles into the town of Schnecksville. At the "Y" stoplight, Route 309 heads off to the left and Route 873 heads off to the right. Take Route 873 for another mile until you arrive in Neffs. The Church is easily located on the left side of the highway as you approach Neffs.